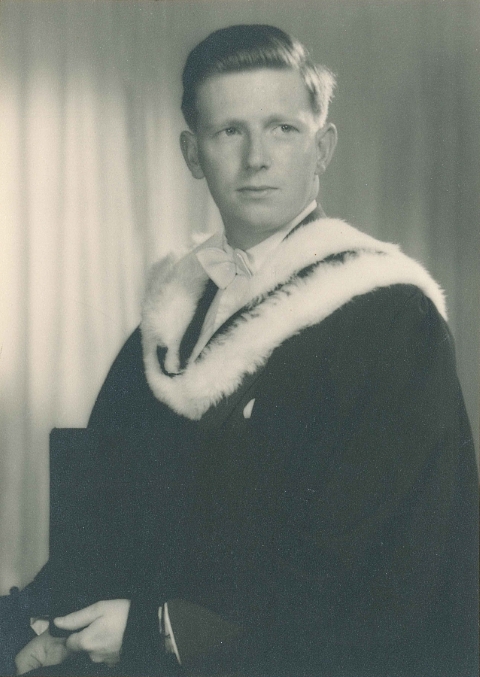 Tony (Antony) Hurren was an English linguist who took a particular interest in the Istro-Romanian language. Born in Nottingham in 1933, he attended Nottingham High School, before studying French and Italian at Wadham College, Oxford. In 1972 he completed, at the University of Oxford, a doctoral thesis entitled "A linguistic description of Istro-Rumanian (we have made that available here as part of ORA – The Oxford University Research Archive). He taught Linguistics at Oxford in the 1970s, and from 1977 was head of the Department of Language Studies at Lanchester Polytechnic. From 1985 until 1997 he was secretary of the Oxford University Society. He published a number of articles on the Istro-Romanian language, most notably on the remarkable aspectual system of the Istro-Romanian verb.
Tony Hurren died in 2006. In 2010, and again in 2017, his widow, Mrs Vera Hurren, generously made a gift to Oxford University of a large amount of unpublished material connected with his research on Istro-Romanian. We are deeply grateful to Mrs Hurren not only for the donation, but for her sustained kindness in answering our many questions about her husband and his work. Mrs Hurren had also contributed to her husband's work by accompanying him on his field trips and typing out his doctoral thesis.
The Hurren Donation includes:
Approximately thirty hours of sound recordings (on reel-to-reel and cassette tape) made by Hurren in several Istro-Romanian villages in the summers of 1966 and 1967.
They fall into two categories:

free narration (e.g. folk tales and fairy tales, childhood memories, descriptions of the village life, local occupations or festivals)
answers to various sets of questions meant to elicit specific information on a number of phonological, grammatical and lexical points, as well as to throw light on differences between the two Istro-Romanian dialects.

Eight field notebooks written during his research visits, containing transcriptions and/or translations of some of the audio material, as well as linguistic questionnaires, information about the speakers/participants etc.
A bound, yet unpublished grammar of Istro-Romanian (Istro-Romanian: a functionalist phonology and grammar, 1999), which we will make available online through ORA
Fifty photographs taken during Hurren's research visits (loaned to us and digitally scanned)
Miscellaneous notes and offprints of articles by Hurren on the Istro-Romanian language
There is virtually no recording of spoken Istro-Romanian before the beginning of the twentieth century. 'Recording' can be either in written or sound-recorded form, and the great bulk of what exists is in written form. Sound recordings are very rare before the final decades of the twentieth century, and thus our material from the 1960s constitutes a major portion of the recorded history of the language and its speakers, some of them still alive.
At the heart of our project is the linguistic analysis of the sound-recorded material. How far does it confirm what we already know about Istro-Romanian from other sources? Does it offer new insights into the structure and use of the language? How different is it from what earlier, or later, researchers found? How different does it seem to modern speakers of the language? Hurren's notebooks are a very useful guide to the contents of the tapes, presenting in written form the linguistic questionnaires used, and transcribing some of the recordings. But by no means all of the sound-recorded material is reflected in the notebooks we have, and there are many gaps and interesting discrepancies that require interpretation with the help of modern speakers.